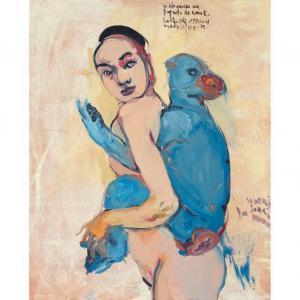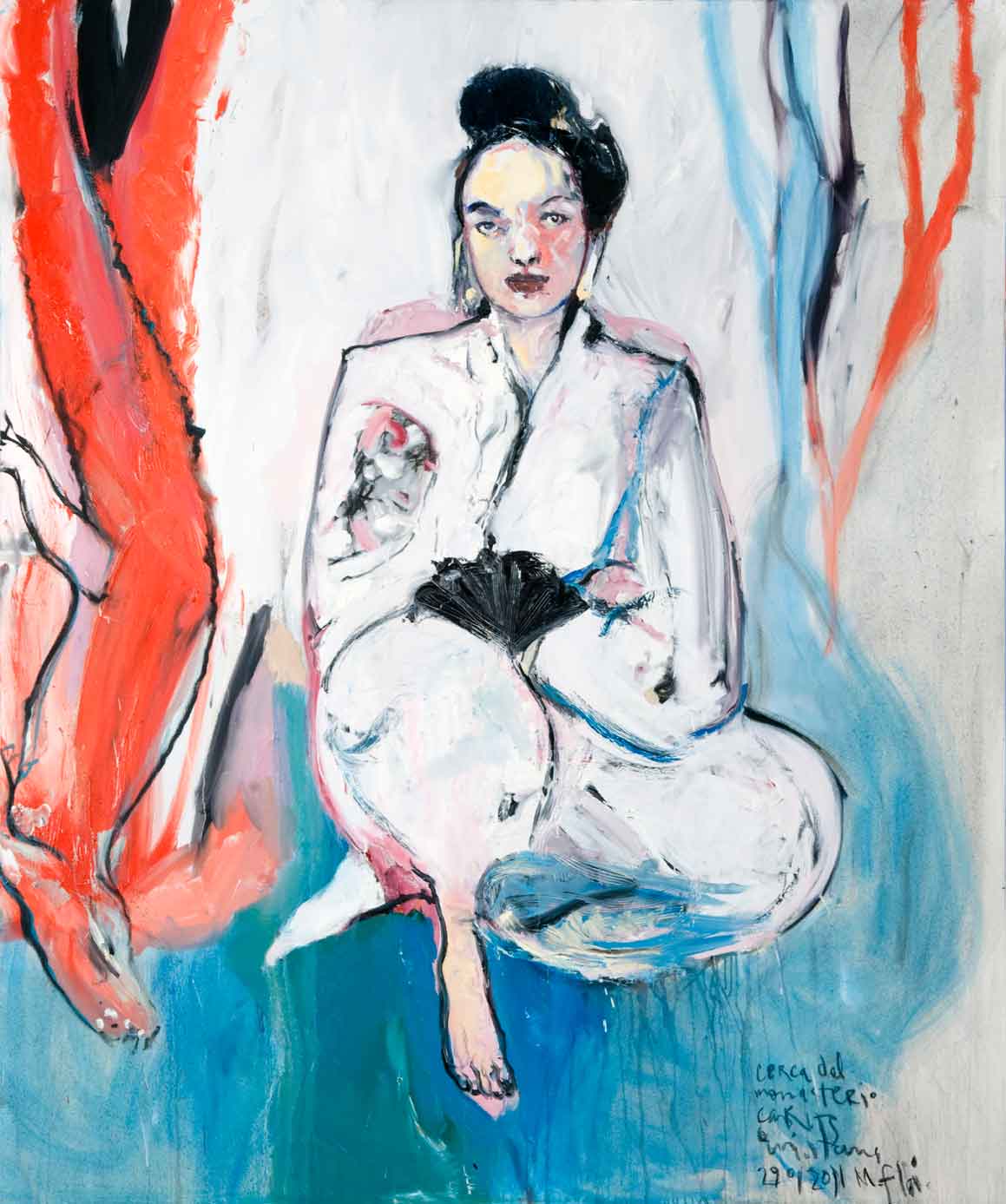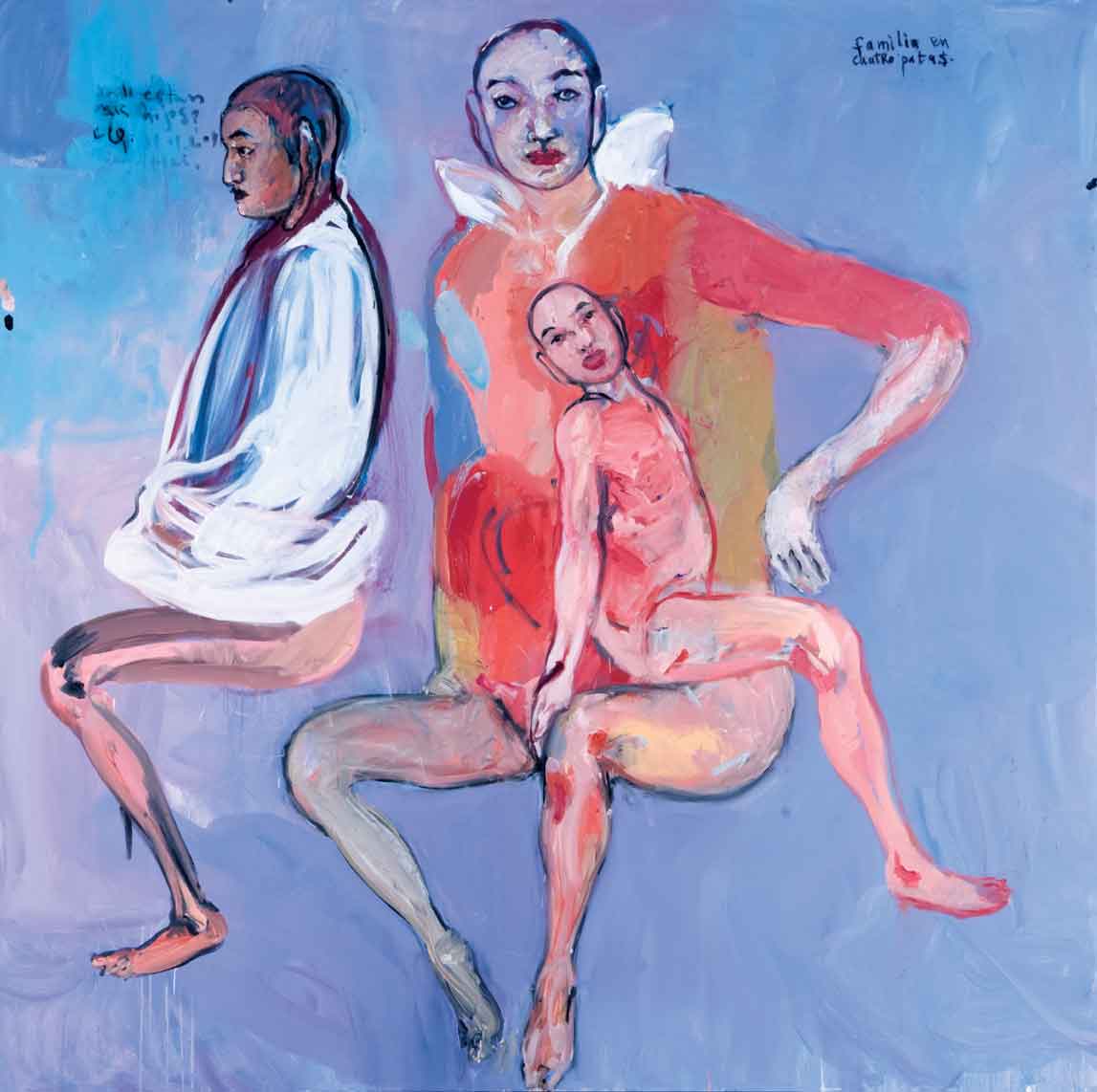 Carlos Quintana, Dónde están mis hijos?, 2011, mixed media on canvas, 78 ½" x 79". Photo Mariano Costa-Peuser
Carlos Quintana is one of those artists who goes through life guided by his own compass. From very early on Quintana found his own way and a very well-defined path, partially due to the art he creates. He doesn't belong to any group, and trying to encapsulate his work into an art trend would be a futile exercise. His works might seem irreverent, but it really is soul searching. He reaches deeply inside his own world and conveys his findings in his paintings.
Quintana was born in Havana in 1966 and briefly attended the San Alejandro Academy and the Instituto de Diseño de la Habana, both in Havana, Cuba. But his time at both institutions was very brief, only a couple of months in each, so he is basically a self-taught artist.
He began exhibiting professionally during the eighties in Havana, and was part of the group of artists that made their mark on Cuban art history during this important decade. The restlessness of the period made it possible for many artists, including Quintana, to be involved in numerous exhibitions and projects that defined the period.
Art is usually autobiographical, and even if artists deny it there is always a big part of them in their work. Sometimes it is highly individual, and others become intimate after revealing their preoccupations. In Quintana's case it is personal; he is portraying himself as he sees it, from different angles and diverse situations, dealing with his day-to-day struggles. Even when he is not clearly 'visible' in the composition, he is still part of it by reflecting reality how he sees it.
One of the distinctive features of Quintana's art is the way he creates his out-of-the-ordinary compositions, especially his characters. They are quite unique, constructed with a force that reminds us of Toulousse-Lautrec's Moulin Rouge paintings. Although there is a certain degree of caricature on their faces, a mere sketch of the idea, we can often see his face in them. They are not 'pretty' but raw, showing that he is not constricted to the classical standards of beauty and that's not his concern. He is interested in defining people by other characteristics, more relevant than their physical appearance.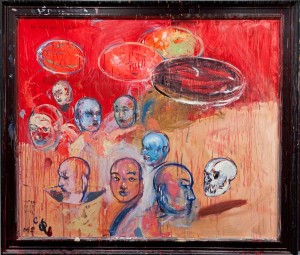 His canvases are filled out with references to his own philosophical views of the world. In the same body of works we can see a mixture of references such as Afro-Cuban, Oriental, and Native American. His universe is vast, bringing in elements from all these cultures, an emblematic post-modern attitude. He is simply taking relevant elements from all of these cultures rather than conforming to his own, and in so doing is constructing his identity as a universal man.
Quintana's works are composed of very loose brushstrokes balanced with the thick black line he uses to delineate his figures. His canvases are often very large, and the backgrounds are finished with what seem to be washed colors, a visual strategy that reinforces attention to the central characters.
His paintings are not pristine; there is no clear distinction between figure and background, and he is not interested in that kind of formal division since his art is made in an intuitive way. Through his technique we can follow his creative method.
He brings in whatever he needs to make each piece, including dripping, bright, or muted colors, and obvious pentimentos. Sometimes he even includes fragments of what seem like sketches for other pieces, and for him that is what just completed the painting. He is not concerned with obtaining an 'impeccable' result, and that is why he doesn't 'finish' each piece in a conventional way. This is all intentional because painting allows him to illustrate his memories, an exercise that ends for him when he pours his mind on each piece. He is not making 'conscious' choices in that sense; his only interest is to paint.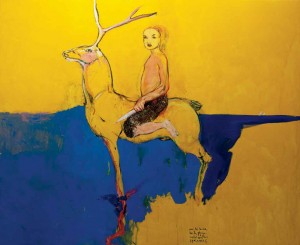 His pieces are descriptive to a point that not only is narrating a story, but includes also titles and writings in an almost illegible calligraphy, either in a corner or on the bottom of his paintings. Some of his titles support the story-telling behind each work, reinforcing a fable quality that dominates his oeuvre. The way he mingles aspects from a palpable reality with a constructed one contributes to that effect. It is impossible to walk away without trying to understand what is behind each piece, to unveil what drove him to make it. But in the end Quintana's message is as universal as it can be, regardless of which piece we are talking about. His main interest comes out of is his daily life: human beings in their interaction with the world. How much of each of us is in his characters? Are they all fiction or do we see ourselves reflected in them? His paintings may be seen as provocative, but that's not the intention. Quintana is being merely descriptive of general human behavior.
He is portraying humanity in its purest expression. There is no intention of 'posing' or making any studies before or after making each piece. Produced by an imagination, distorted in a certain way, we see how Quintana is reflecting his philosophy, fragments of his beliefs and way of life.
Quintana finds his own balance in what might seem a chaotic representation of life. What seems disorderly is a perfect rendering of contemporary life looked at through his very unique and personal prism. These could be perceived as scenes coming out of a tormented environment, developed at a vertiginous speed, but what we are really watching are contemplative exercises. They actually serve him as a way of meditating, his catharsis in front of a spinning and uncontrollable world.
Experimentation is one of the key elements behind Quintana's work, easily seen in the way he approaches the conception of his pieces,  the way he conceives them and finally the end result. He goes beyond the traditional canvas surface, and in his quest for new surfaces found mirrors attractive. By turning them over, he found the ideal surface on the grey backing. His pieceJesus is the Man Called Ana Tema (2011) was done in such a surface. The experimental character of this piece is extended to the imagery as well, in which the figures seem like sketches, giving the impression of being unfinished.
One of his most impressive pieces is Por la tarde en la playa (In the afternoon at the Beach) (2011). It shows a lonely figure holding a knife and riding a defiant deer. A bright yellow color and an equally intoxicating blue dominate the scene. The deer and its rider are made of a very thick black line, Quintana's trademark. The stoicism of the characters is astonishing, and so is the fact that he created this powerful image with such an economy of visual resources. Deer and rider are ready for battle, in the unity of man and nature, his totemic deity in the function of protecting him.
As many painters before, the desire to experiment led Quintana to explore other techniques. So it is not a surprise to find out that he has tried his hands at three-dimensional pieces, and as a result, he has created a couple of sculptures. His most recent one is a beautiful piece: a sleek and flawless blue elephant ridden by a silver dancer. Consistent with his usual themes, he chose two of his most representative elements from his iconography: women and animals. So even if we don't know him as a sculptor, by looking at this piece we can immediately recognize it as one of his works. Seeing the three-dimensional rendering, we can only imagine what could happen if he decided to bring more of his characters into three dimensions.
If we had to mention a thread that runs throughout his oeuvre, unifying his art, it would be the presence of women, very often represented from an erotic and sexual point of view. Some are sophisticated and Asian-looking, judging by facial details and clothing; others are naked and voluptuous.
Quintana's oeuvre is a visual essay on humanity, a pictorial treatise of its strengths and weaknesses. His figures are hybrid characters composed by diverse elements, some human and some animal. His pieces might give an impression of irrationality, depending on what is considered 'normal'. His scenes seem as if taken from a different world, one in which the border between reality and absurdity is blurred, a sort of visual 'magic realism'.
This is a crude art; there is no ornamentation nor any space for symbols that are not strictly essential to his main subject. He is a visceral painter, one that unloads human tragedy onto his canvases. There is a sense of immediate execution in his work. Quintana paints because he has to, for him painting is a vital function like breathing, and there is no other way around it.
Irina Leyva-Pérez is an art historian and art critic. She is the curator of Pan American Art Projects in Miami, FL
http://artdistricts.com/multiple-visions-the-world-of-carlos-quintana/
juancarlosquintana.org